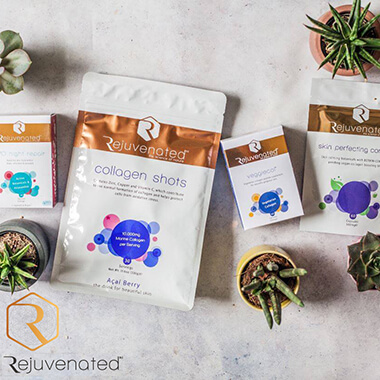 Rejuvenated - Anti-ageing Supplements
Rejuvenated products which are specially designed to make a difference to your skin and make you look good with ease. These easy to take Rejuvenated products will help your skin tone and texture. These easy to use high performance products formulated with the best ingredients can make a difference to your skin to make looking good so much easier.
There is no denying the fact that collagen helps in keeping the skin soft, supple and full of life. But with age and continued exposure to environmental pollution our bodies' natural ability to produce collagen decreases. Collagen reduction is visible in the skin in the form of wrinkles, fine lines and the skin at times also becomes saggy. This Collagen shot supplement helps the skin regenerate and rejuvenate from inside out by helping the body regain the lost collagen and thereby making the skin look firmer and supple.
Rejuvenated H3O Hydration-
H3O hydration drinks help our skin become beautiful from within by helping the body produce healthy hydrated cells which in turn helps our skin look young. This drink has been proven to be beneficial in producing the necessary ions and minerals in the body which in turn combat fatigue and also aid in body's natural cell repair process.
Rejuvenated H3O Night Repair-
Get healed when you sleep with this H3O night repair capsules. Sometimes the day care regime which we follow for our skin is just not enough to give us a healthy looking skin. This 30-day capsule is loaded with all the essential ingredients which help your body slow down the process of ageing by starting the repair process at the cellular level. So, age gracefully and wake up rejuvenated, renewed and make your beauty sleep more effective with the H3O night repair capsules.
Rejuvenated Veggiecol-
This vegetarian collagen helps is maintaining a good skin and is a must use for those who do not want to opt for the marine based collagen supplements. Its unique formula helps us attain a softer and smoother skin. The repetitive use of this capsule along with other rejuvenated products is sure to help you attain a flawless skin. The patented formulation of hyaluronic acid, important vitamins and over 500 different types of ingredients helps in relieving oxidative stress and also contribute DNA synthesis which in turn helps in maintaining a smoother and even complexion.