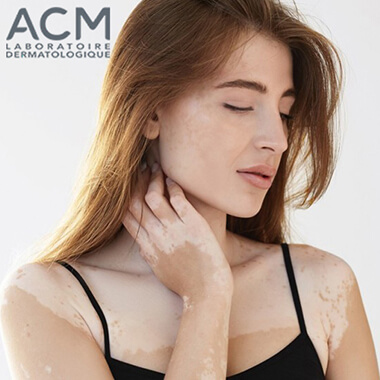 Laboratoire Dermatologique ACM
Laboratoire Dermatologique ACM was created with the willing to offer products capable of treating the most common issues dermatologists are consulted for and which are suitable for all skin types.Because we all have different skin issues and not all skin ages, heals and holds moisturise in the same way. That's why we want to provide everyone with the means to enjoy healthy skin.
Skin ViTiX and ViTicolor Gel
Vitiligo appears as white patches on the skin of the body or face. It is a disease associated with the disappearance of melanocytes, the cells of the skin responsible for producing melanin (the main skin pigment). Vitiligo patches do not cause any physical sensations: they are not itchy, the do not burn and are not painful. The condition is not contagious, but individuals suffering from vitiligo are looking for effective solutions for regaining a uniform complexion.
Vitix is a product range dedicated to persons suffering from Vitiligo and which offers concrete and effective solutions. A genuine relief for individuals concerned.
A Complete Care Approach to Vitiliginous Skin ViTiX and ViTicolor Gel have been specially developed to help in the regulation of depigmentation in conditions such as Vitiligo. While ViTiX re-establishes a normal level of melanin in the skin over a 2-4 month period, ViTicoLor Gel adds gradual camouflage colour to the skin over a few days to reduce the visible signs of the condition.
SENSITÉLIAL SUNSCREENS EFFECTIVE SUN PROTECTION FOR THE MOST SENSITIVE SKIN
Sunlight is good for the morale, but not for the skin. If not covered by full-length clothes and/or by an effective sun cream, prolonged exposure can cause not only sunburn, but also, in the long-term, skin cancer (melanoma, carcinoma) and skin ageing. It is therefore important to select a protection factor suited to one's skin type, the type of sun exposure and geographical area (altitude, etc.), to apply the cream generously and to regularly renew this application, particularly after sweating, swimming or having wiped the skin. The Sensitelial Sunscreens range proposes adapted solutions for protecting the most sensitive skin from the dangers of the sun.
Effective sun protection for the most sensitive skin including under extreme exposure conditions, with textures suited to all skin types
The Sensitelial range guarantees optimum UVA-UVB sun protection for sensitive or chemical filter-intolerant skins, thanks to high-tolerance, water-resistant and photostable formulations, along with textures adapted to your skin type, making them a real pleasure to use.
Special Price

$20.90

Regular Price

$24.59