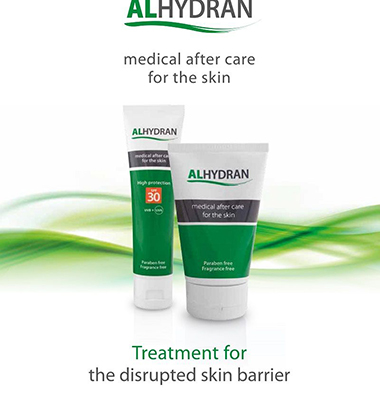 ALHYDRAN - Medical aftercare for the skin
Recommended by doctors and skin therapists
ALHYDRAN is a medical cream specially developed for:
• After care of the skin immediately after wound closure
• Treatment for disrupted skin barrier
Medical aftercare for skin problems such as:
Scarring - ALHYDRAN repairs and improves scar tissue on both old and new scars.
Burn wound - ALHYDRAN repairs the skin, makes it more supple and reduces itching.
Radiation - ALHYDRAN relieves and speeds up repair of skin problems caused by radiotherapy.
Dry skin - ALHYDRAN cares for red and dry skin. It protects and hydrates the skin.
Laser treatment - ALHYDRAN cares for skin that is red and delicate following laser treatment.
Itching - ALHYDRAN cools and calms the skin. It rapidly reduces itching and irritation.
Click here to view the Alhydran Brochure