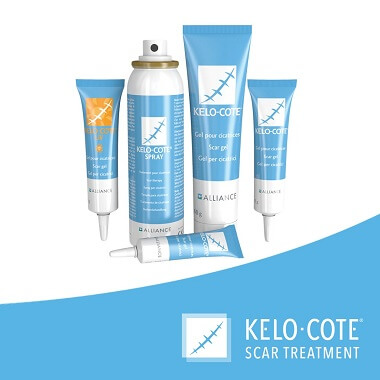 Kelocote - Scar Treatment
Kelo-cote is a treatment for abnormal scars, including hypertrophic scars and keloids. The treatment is an easy to use silicone based gel, which uses Siliclear Complex silicones and dries on the skin within minutes of the application. The layer of Kelo-cote on the skin is thin, breathable, transparent and waterproof. Kelo-cote is biocompatible, suitable for both adults and children and even those with sensitive skin.
Kelo-cote can assist with the reduction of numerous types of scars, including:
    - New and old scars
    - Post-surgical scars
    - Cosmetic surgery
    - Keloid scars
    - Burns
    - Superficial scars
    - Hypertrophic scars
    - Insect bite scars
    - Scars from skin diseases
Kelo-cote is clinically proven to:
    - Flatten the scar surface and reduce the appearance of scars
    - Reduce redness from scar irritation
    - Reduce and improve discolouration of the scar
    - Relieve itching and discomfort of the scar
    - Maintain the moisture and hydration of the skin
Both gel and spray options of the product are available for the ease of use. The spray works in the same way as the gel, although the spray can be applied without having to touch the skin. This is beneficial to particularly painful scars that can be distressing to touch and rub, in addition to being convenient for areas of the body that are difficult to reach.
Kelo-cote can be used on large surface areas of the body, including joints and flexures. Medical pressure garments can also be used with Kelo-cote.
For more information please click on Kelo-cote Brochure