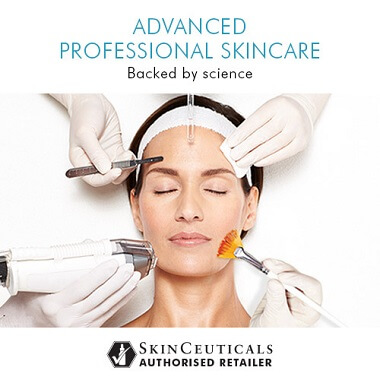 The Advanced Professional Skincare Range Skin Ceuticals is avialable to purchase online & in person from our Leicestershire Clinic. For Skincare advice call 01162 514848.
SkinCeuticals is a world renowned cosmeceutical brand developed and made in the USA. As with all cosmeceuticals, SkinCeuticals uses ingredients that are backed by science and provide advanced skincare. SkinCeuticals is recommended by plastic surgeons, select pharmacies, dermatologists and many medical and premium spas found around the globe.
The Skinceuticals product range has been specially formulated to help correct the appearance of signs of ageing and damage to the skin caused by the sun and pollution. It also helps to protect the skin and prevent any future damage potentially caused by environmental factors and UV rays.
For best results in lessening the damage caused by environmental factors SkinCeuticals recommended using the products as part of a Prevention, Protection and Correction regimen. Each product range in the regimen can be accessed through the five steps below.
When asked what people thought of SkinCeuticals, comments included "these products actually work!", "the results are quick and lasting", "my skin is brighter and more radiant", and "I believe it made me look about 5 years younger".






Special Price

$172.23

Regular Price

$190.69