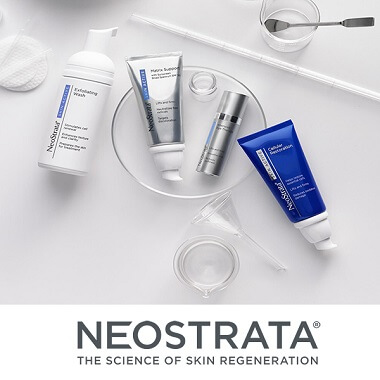 Formulated using advanced laboratory researched and tested ingredients, the NeoStrata Skincare range helps to treat a multitude of skin conditions including rosacea, hyperpigmentation, dryness, dullness, acne, and the signs of premature aging.
For further information please click on links below :
NeoStrata Brochure (PDF file)
Neostrata Skincare Review With Before & After Pictures
NeoStrata's unique formulas have been developed using clinically-proven ingredients including naturally occurring AHA's (Alpha Hydroxy Acids) and PHA's (Polyhydroxy Acids) which are known to benefit the skin and make it appear fresher and healthier.
Glycolic acid (an AHA) is the key ingredient used across the NeoStrata range. A natural component of sugar cane, Glycolic acid is the smallest molecule in the AHA family. This means it can be easily absorbed by the skin and quickly start providing benefits (namely, helping the skin to appear more vibrant and youthful).
Recommended by physicians worldwide
As pioneers in the development of AHA's and PHA's, NeoStrata is widely regarded as the skin care brand of choice by physicians, dermatologists and plastic surgeons worldwide.