SilcSkin Collette pads - For the Neck
Authorized Internet Resellers for SilcSkin
- Designed for the neck where sun exposure, aging and gravity wreak havoc on this area.
- 100% medical grade silicone
- washable.
- contains 1 pad





Designed by two time Emmy Award winning makeup artist, Camille Calvet

Our Collette pads are specifically designed for the neck where sun exposure, aging and gravity wreak havoc on this area. They are very discreet to wear anytime of day. Made of 100% medical grade silicone, they contain no allergy causing latex, urethanes, or adhesives.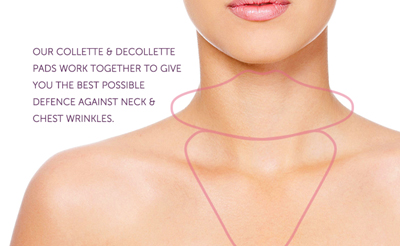 contains:
One Pad per box.

Before & after images








Helpful Tips:

Have you washed the pads?
Regular washing them with an antibacterial soap or baby shampoo will remove the exfoliated skin cells which can interfere with the adhesive quality of the pad. Another trick after washing them is is to dry it with a hair dryer, as it helps to revive the adhesive. One of our customers says she gets months out of her pad doing this!

The pads are to be worn on clean dry skin with absolutely no product or lotions underneath, this interferes with the adhesive quality as well as can cause rashes and reactions.Also, night sweats will interfere with the adhesive quality of the pad.

Also, if you think the pad might have become contaminated with either a residue of soap, lotions or sunscreens it can be wiped down with rubbing alcohol (using a gauze or paper towel) to clean it. Also, the area where you wear the pad can be cleaned with Witch Hazel and allowed to dry prior to wearing the pad, this assures that no residue of product remains on the skin and also helps if there is perspiration.