Jan Marini Regeneration Booster Face Lotion
RRP £148
- Improves the appearance of of aging skin.
- Contains cycloastragenol, growth factors, peptides and antioxidants
- Suitable for all skin types.
- Paraben-Free

RENEW - Jan Marini Regeneration Booster Face Lotion 30ml

Regeneration Booster is a cutting-edge anti-aging powerhouse proven through independent studies to significantly improve the appearance of aging skin. Maximum results are delivered through a concentrated combination of advanced ingredients including cycloastragenol, TGF Beta-1, coenzyme Q10, multiple beneficial growth factors and peptides and antioxidants. 

•Shown through independent clinical studies to provide rapid and lasting improvement in the appearance of aging skin
 •Easily incorporates after Step 1 of the Skin Care Management System for intensified results

Benefits:
In an independent 12-week study conducted by Robert Weiss MD, Regeneration Booster showed significant improvement in the appearance of each of the eight measured categories of aging skin. Measured categories included the appearance of wrinkles, texture, pore size, elasticity, skin color / clarity, erythema, hydration and overall skin quality.

Study highlights included:
•100% of subjects noted improvement in overall skin quality
•100% of subjects noted in at least 3 or more categories with an average improvement in 6.7 of 8 categories
•100% of individuals noted positive user experience (ease of use, smell, texture, feel)
•Significant improvement in 100% of measured categories
•Visible results after just 2 weeks of use
•0 cases of sensitivity, acclimation or irritation.

key ingredients:
•Cycloastragenol
•TGF Beta-1 (Transforming Growth Factor/rh-Polypeptide-22)
•Epidermal Growth Factor (sh-Oligopeptide-1)
•Keratinocyte Growth Factor (sh-Polypeptide-3)
•Peptides: Palmitoyl Pentapeptide-4, Myristoyl Pentapeptide-8, Myristoyl Pentapeptide-11 & Myristoyl Tetrapeptide-12
•Green Tea Extract
•CoEnzyme Q10
•Hyaluronic Acid
•Essential Fatty Acids

Directions:
Paraben free
Recommended for all skin types.
Apply sparingly in the morning and evening to entire face after cleansing .

Please click below for further information:
Regeneration Booster Testimonials
Regeneration Booster clinical studies (PDF)

Age Intervention® Regeneration Booster
STUDY DESIGN

• 20 subjects between 35-75 years old with moderate degree of photo-aging (Glogau wrinkle scale score ll-lll)
• Subjects were instructed to use only Regeneration Booster, a gentle cleanser and sunscreen

CONCLUSION

• 100% of subjects noted improvement in overall skin quality
• 100% of subjects noted improvement in at least 3 or more categories with an average improvement in 6.7 of 8 categories including: wrinkles, texture, pore size, elasticity, skin color/clarity, erythema, hydration and overall skin quality
• 100% of subjects noted positive user experience
• Significant improvement in 100% of measured categories
• 0 cases of sensitivity, acclimation or irritation
Author: Robert Weiss, MD

Click here to read Andrea's Review of the Jan Marini Regeneration Booster face lotion

Before and After images using Regeneration Booster Face Lotion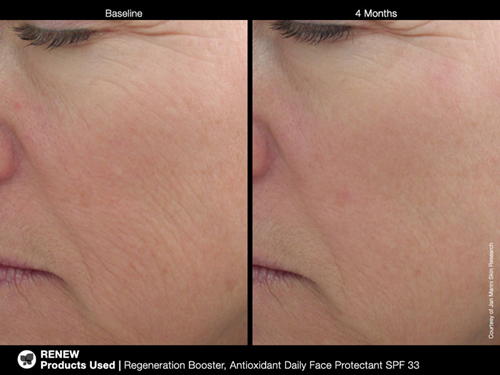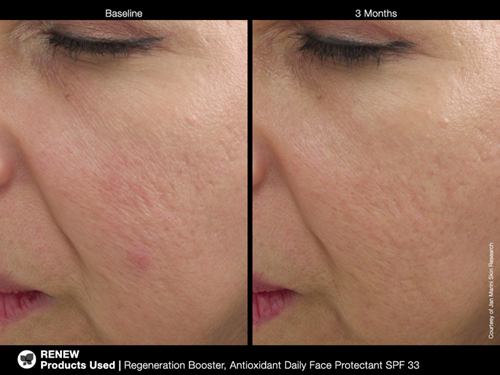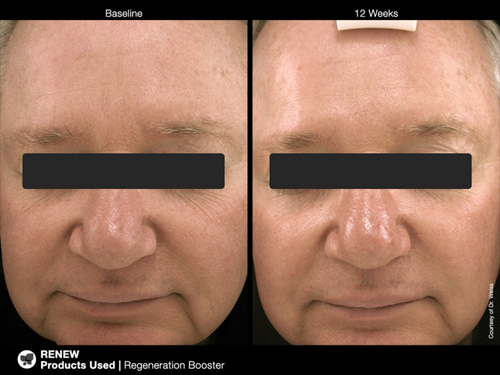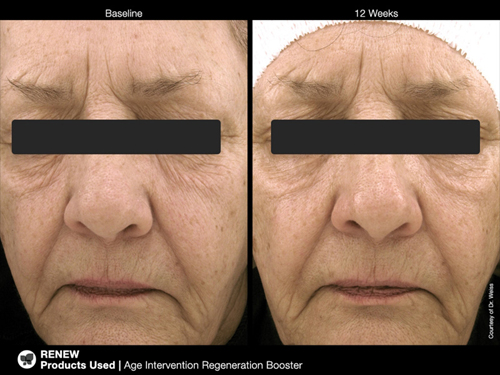 Ingredients

| | |
| --- | --- |
| Ingredients | Water/Aqua/Eau, Glycerin, Helianthus Annuus (Sunflower) Seed Oil, PEG-40 Hydrogenated Castor Oil, Cyclopentasiloxane, Butylene Glycol, Cetearyl Alcohol, Limnanthes Alba (Meadowfoam) Seed Oil, Mangifera Indica (Mango) Seed Butter, Dimethicone, Glyceryl Stearate, Ceteareth-20, Butyrospermum Parkii (Shea) Butter, Methylsilanol Mannuronate, Cycloastragenol, Ceramide 2, Myristoyl Tetrapeptide-12, Myristoyl Pentapeptide-11, Palmitoyl Pentapeptide-4, Myristoyl Pentapeptide-8, sh-Polypeptide-3, sh-Polypeptide-22, sh-Oligopeptide-1, Panthenol, Sodium Hyaluronate, Linoleic Acid, Linolenic Acid, Camellia Oleifera (Green Tea) Leaf Extract, Allantoin, Ubiquinone, Tocopheryl Acetate, Tocopherol, Magnesium Aluminum Silicate, Dimethicone/Vinyl Dimethicone Crosspolymer, Xanthan Gum, Glycine Soja (Soybean) Oil, Hydrogenated Lecithin, Carbomer, Polysorbate 20, Polysaccharides, Sodium Lactate, Caprylyl Glycol, Ethylhexylglycerin, Hexylene Glycol, Citric Acid, Quartz, Sodium Oleate, Disodium EDTA, Sorbic Acid, Phenoxyethanol |
I have been using this product for 2 weeks only and already I see a remarkable improvement. I use this serum both Am & PM a very small amount is all that is required...and it compliments the Bioglycolic face cream or the Transformation cream.
Probably too soon to tell if there is a massive difference but this is a nice product- very smooth, feels nice, not too greasy and sinks in quickly but I like the comfortable way my skin feels after.
This product is like magic for my face. Although a bit expensive, it helps getting the sun cream free. Much cheaper than going for a facial.
I use the booster after I cleaned my face and the texture is so good that I will continue to use it. Although it's expensive but one bottle will last about 6 weeks so it's still cheaper than go to a weekly facial. This is my 5th bottle now and this is a great product to have and my skin looks so healthy and glow which I think it works better than a weekly facial.
I have only used the products for 2 weeks. Feels good, so far.
I have been using the Jan Marini line including this booster since April this year, and I just love their products especially this booster. I have dry/combination skin and its just the right kind of texture for me and I have finished my 2nd bottle. I will continue to use this in my skin regime.
This cream it's so smooth and the texture it's so good. I am almost done with my first bottle and I have just received my second bottle and hope to see more improvement on my skin.
Sorry no video available.